February 17, 2017
Like dozens of cities around the nation and globe, Lexington, Kentucky witnessed a women's march with thousands in attendance the day after Trump's inauguration (January 21, 2017). Lexington police and the Kentucky National Organization for Women said it was the largest march seen in city history. The overarching goal of this march and the sister marches was to challenge the overtones, attitudes, and rhetoric and language of the Trump presidency while uniting all people "for the protection of our rights, our safety, our health, and our families—recognizing that our vibrant and diverse communities are the strength of our country."
Prior to the Lexington march itself speeches were made by local politicians and civic leaders including Kentucky Secretary of State, Alison Lundergan Grimes.
*Video no longer available
Women's March on Washington – Lexington, KY from Pinnacle Productions on Vimeo.
Alison Lundergan Grimes Speech, January 21, 2017 (at 1:25)
Following Grimes's speech, you will notice a short clip of the Korean drumming seen and heard at the march.
Six musicians performed at the Lexington march: Donna Kwon, Martina Vasil, Elizabeth Navarro Varnado, Isaac Maupin, Emily Furnish, and myself, Megan Murph. What follows is my reflection on the sights and sounds of the event. This context along with footage, photographs, and performer's reflections will help in understanding the role of music in the greater social movement represented by the march. These primary sources will reveal how the drumming was used in exciting the crowds, unifying the chants, and keeping the walk together; the drumming was also a way the performers could creatively serve their fellow marchers and offer a unique sonic experience for the event.
The four percussive instruments included in the performance were the changgo (hour-glass drum), puk (barrel drum), jing (gong), and kkwaenggwari (small gong). These instruments are used in P'ungmul, a genre of Korean instrumental folk music, which also includes dancing. The band is led by the small gong player. While today P'ungmul is seen primarily as a performance art, it is rooted in providing rhythms for farmers or workers in collective labor, as well as used to accompany shamanistic rituals and community events. According to native Korean beliefs and scholarship, P'ungmul was created for and by the people as a harmonic way to unify the three elements of heaven, earth, and humans (Kwon 2011). P'ungmul has been an important aspect of political protests in South Korea since the 1970s (Lee 2012). In the United States, Korean American activists sympathetic with Korean politics formed P'ungmul groups beginning in the 1980s. Still today P'ungmul is used in protest movements both in the USA and in Korea (Kwon 2001, Kim 2011, Lee 2012).
Our Lexington band wore traditional P'ungmul costumes in red, white, and blue, which allowed for us to pay tribute to the colors of the American flag (Fig. 1). We performed rhythms and choreographed steps when the march was at a halt (Fig. 2).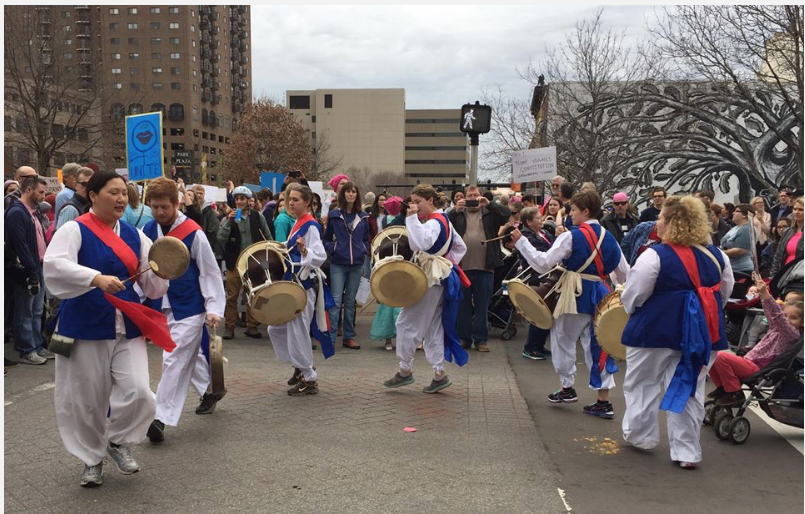 The music we performed at the march mainly included improvised rhythms intended to accompany the chants of the people around us. You may hear this in the first video. Some of the chants we accompanied included (in no particular order):
"Ho ho, Hey hey, Women's rights are here to stay"
"Women united will never be divided"
"No Trump, No KKK, No Fascist USA"
"Unafraid"
"We gon' be alright" (Kendrick Lamar reference)
"Black Lives Matter"
We also occasionally inserted Korean phrases traditionally heard in P'ungmul, such as "Olshigu," (which roughly translates to "Right On!"), "Jolshigu" ("We're on track!"), and "Jotta" ("Good job!"). These declamations functioned within the group as a way to affirm that we were playing well together and in time, but they also reflected the larger picture of the thousands marching in unity together and being "on track."
During the event, I found myself having to listen, watch, and pay attention to many aspects of the march and its music: tuning into the patterns the group was playing and ensuring I was playing Puk well; making sure our rhythms matched the chants of the crowds around us and that our steps were unified; and safeguarding that our drums or sticks were clear of the small children marching or riding in strollers.
Walking through the soundscape was at times magnificent. There were a few intense moments involving the sound when I could not decipher between the chants, yells, drums, and other external sonorities (like cars, sirens, talking, etc.), not to mention the physical and sonic impact of feeling and hearing the Puk, a bass drum, which was strapped to my torso. I felt the vibrations of the drum with every step and breath, thinking about how my breath, step, and musical action aligned, a concept that master P'ungmul players ingrain in their teachings (Kwon 2011).
I experienced an especially powerful moment at the Martin Luther King bridge. Dozens of people were standing above on the bridge watching and cheering us on. As we walked under the bridge, the sounds were amplified. The structure of the bridge caused a convergence of sounds from the people above, the people on the street, and the drums. Those walking through the space experienced a collision with the sonorities around them, physically feeling the resulting reverberations throughout their bodies with pressure on their ears. This moment was a stark contrast from being out on the open street. Under the bridge, everything felt sonically louder and physically tighter, and perhaps emotionally we, the marchers, were even closer.
Two concerns I had going into the day were whether my fellow marchers would even want the drums to be a part of the event and/or if people would be offended by me, a white person, playing a Korean folk instrument. I wondered if there would be anger or questions about appropriation. I was playing an instrument that I did not culturally grow up around and for me, it was more about providing rhythms for the day's demonstration rather than trying to recreate a tradition that I will never be able to fully understand or be a part of. This reminded me of Ted Solís's introduction to the book, Performing
Ethnomusicology: Teaching and Representation in World Music Ensembles, where he discusses the challenges of what cultural information is put out there when an outsider plays a world music instrument (Solís 2004, 10–13). Such engagement requires respect and a sense of responsibility to balance learning, interpreting, creating, and recreating the music. There seemed to be public understanding that we were being respectful of P'ungmul at the Lexington march. People stopped to ask questions about the instruments' origins and were intrigued and impressed by the instruments' tone and beauty. Many were excited we performed and encouraged us by cheering, clapping, waving, or verbally saying "thank you" for being a part of the march. These interactions assured me that our band was welcomed at the action.
When the march wrapped around to its ending point, we performed the traditional P'ungmul closing rhythms and bowed to show appreciation to our fellow marchers.
I had the opportunity to talk with a few of the other drummers about why they chose to march and what they thought the drums brought to the event.
Kwon played the small gong and said she joined the march "to show solidarity with the women's march in Washington, DC." She stated: "I'm excited to be part of a local movement of people who care about women's rights and about the rights of diverse people in the United States, including immigrants, people of all religions, all sexualities, classes, races, ethnicities, etc. I'm excited to express our diversity through sound – through the Korean drums – and hopefully people will be supportive and accepting of this. The last time I marched with Korean drums was during protests in San Francisco against the war in Iraq and this was such a powerful experience in my life. In so many ways, I feel so overwhelmed in facing the new agenda of Trump's presidency that is so fundamentally against what I believe in on so many levels: rights of women, working to avert climate change and protecting the environment from neoliberal development, protecting public education, the arts and the humanities, affordable health care, and the list goes on and on. I feel like this will be a good step in working locally to mobilize against so many of the fights ahead."
When asked why she wanted to perform, Kwon said: "I think it can be used to both support the marchers and provide some sonic energy for people and accompany chants. If we get a chance to play Korean rhythms then it will be a nice opportunity to insert some diversity into the march, but I'm sure whatever happens we will be there to support, to unite and come together."
From Kwon's statements we see that she was more concerned with using the drumming to support the local marchers and to be a part of the demonstration itself than to play or recreate traditional Korean customs, which connects to Solís's aforementioned commentary.
Vasil performed changgo, sharing that she joined Lexington's march because "women's rights are being restricted and I want to protest." She continued: "Already in the state of Kentucky, two bills were passed: one prohibits an abortion at or after twenty weeks even in the case of rape or incest, and the second requires a physician or technician to perform an ultrasound, describe and display the ultrasound images to the mother, and provide audio of the fetal heartbeat to the mother before she may have an abortion. Additionally, I continue to be abhorred by president-elect Trump's comments and actions toward women and think that his behavior has emboldened more people to treat women disrespectfully."
Vasil said that "performing changgo will provide a powerful sound to the march and the protest that will support the chants and energize the crowd. Playing the drum makes me feel powerful and makes me feel like I have a strong voice in this march."
Varnado also performed changgo and shared that she joined the march because she felt "if our country held the things that women—as caring, thoughtful, compassionate humans—typically value most, we would be a happier and healthier nation. I also want to express my intention to make sure that a cultural attitude of respect towards women continues to grow, despite what our country's leaders may say or do."
Varnado proceeded to say she wanted to do something "to be heard, and something that is fun, encouraging and uplifting, not chanting that is condemning or anti-Trump. I just don't see that as something that is helpful. But playing music, maybe getting some people to dance to clap along, unites and strengthens everyone who takes part."
There are similarities in Kwon, Vasil, and Varnado's comments—each addresses issues of human rights and seeks a common good for people in our country. This was the overarching theme for the women's marches held across the nation and world the weekend of January 21. In regard to the intention behind drumming, they all mentioned wanting to provide energy for the event that would be uplifting and meaningful for the marchers.
I joined the march because I wanted to stand in solidarity with people of color, women, LGBTQ folks, people with disabilities, and other marginalized people here in Kentucky and beyond. For me, this march was not about our new president, but about the system as a whole not supporting its people. I joined the march because I believe everyone should have access to equitable resources to live a meaningful life (like good healthcare, quality education, jobs, a living wage, etc.). As a group, we should demand these resources. While I am a musician and I have been involved in local organizing, activism, and protests for several years, this was the first time I had marched with a musical instrument. I was amazed at the impact the sounds had on exciting the crowd, which in turn was energizing and made me want to continue playing.
From the sonic synchronicity to the lyrical expressions from the people, we see music as a resource that may be used to enhance demonstrations as well as other large-group activities. This reflection on Korean drumming heard at the women's march in Lexington is just one small example of music heard during the 2017 inauguration weekend demonstrations. I hope the people who performed or heard music/sounds at other events, protests, or marches around the globe will document their experiences in order to serve as a catalyst for future action and research in this area. Not only should we keep talking and learning about how music is involved in marches and protests from the inauguration weekend in particular, but we should stay actively engaged in these movements. For when we cannot accept the injustices around us, we must do everything in our power to help change them.
– Megan Murph
References
Gwak, S. Sonya. Be(com)Ing Korean in the United States: Exploring Ethnic Identity Formation Through Cultural Practices. Amherst, NY: Cambria Press, 2008.
Hesselink, Nathan. P'ungmul: South Korean Drumming and Dance. Chicago: University of Chicago Press, 2006.
Kim, Soo-Jin. "Diasporic P'ungmul in the United States: A Journey between Korea and the United States." PhD diss., Ohio State University, 2011.
Kwon, Donna. Music in Korea: Experiencing Music, Expressing Culture. Oxford: Oxford University Press, 2011.
_____."The Roots and Routes of P'ungmul in the United States." Umakgwa Munhwa [Music and Culture] No. 5 (2001).
Lee, Katherine In-Young. "The Drumming of Dissent during South Korea's Democratization Movement." Ethnomusicology 56, no. 2 (Spring/Summer 2012), 179–205.
Solís, Ted. "Teaching What Cannot Be Taught: An Optimistic Overview" in Performing Ethnomusicology: Teaching and Representation in World Music Ensembles, edited by Ted Solís, 1–19. University of California Press, 2004.
Yoon, Paul Jong-Chul. "She's Really Become Japanese Now!: Taiko Drumming and Asian American Identifications." American Music 19, no. 4 Asian American Music (Winter 2001), 417–38.