October 17, 2016
I won't lie. I'm a fan of just about anything Ben Gibbard does—be that as frontman for Death Cab for Cutie, as fifty-percent of The Postal Service, or as trail running fanatic. When word of a new Death Cab for Cutie song came across my newsfeed last week, I immediately clicked through to take a listen. The track—entitled "Million Dollar Loan"—stands in sonic lockstep with what we have come to expect from the band: sparse suspended chords, alternating minor and major tonalities, and contemplative space between vocal utterances. And perhaps this familiarity is all by design. As the inaugural song for a new music-oriented political website called 30 Days, 30 Songs, "Million Dollar Loan" has to grab listeners by the ears and entice them to explore further offerings (Fig. 1).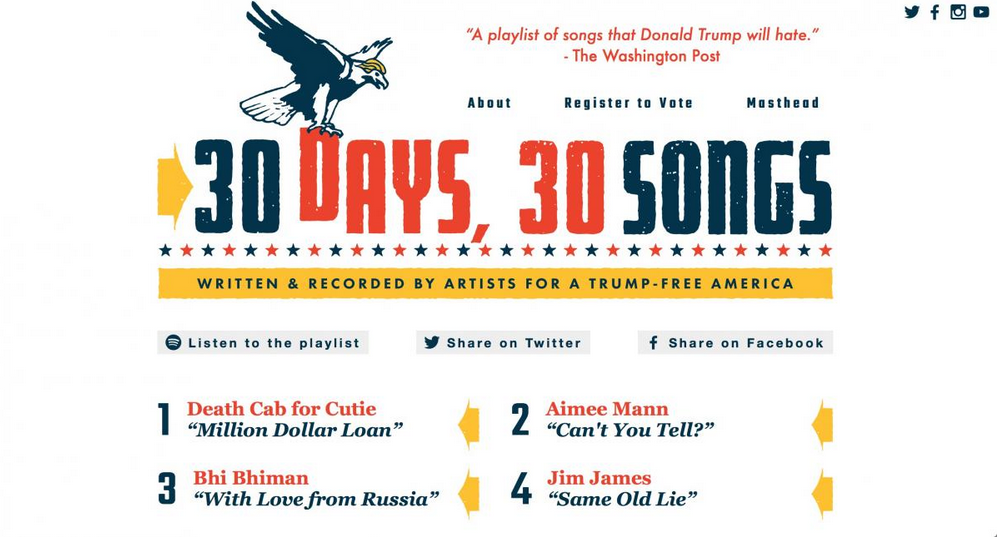 Launched on October 10, 2016, 30 Days, 30 Songs provides a new piece of music to accompany each day during the final month of the election. All songs are written and recorded by "Artists for a Trump-Free America"—though individual names are not announced until their respective songs are released—and proceeds will be donated to the Center for Popular Democracy. The "about" section of the website does not mince words:
We hope these songs provide both motivation and soundtrack to doing the right thing these last few weeks before this most pivotal election. Consider this the music by which you will register to vote and cast your ballot for Hillary Clinton, the only candidate who can prevent the apocalypse that would be Donald Trump as president.
As various news outlets report, this new unabashedly anti-Trump music site is the creation of Dave Eggers (author of A Heartbreaking Work of Staggering Genius and founder of McSweeny's). His inspiration for the project was hearing music at a Donald Trump rally in Sacramento that he covered at the start of June. Eggers' reported in The Guardian that music was being used by artists he felt would not want to be associated with Trump, including "Tiny Dancer" by Elton John and the theme from the Hollywood movie Air Force One by the late film composer Jerry Goldsmith. Indeed, a producer for that film subsequently requested the campaign stop, stating "Goldsmith composed music to underscore a make-believe, heroic president … not to help create a phony soundtrack for Trump."
As readers of Trax on the Trail are well aware, artists such as Aerosmith, Backstreet Boys, Queen, R.E.M., and Neil Young are only a few of many who have similarly reproached the Trump campaign's unauthorized use of their music. Television host John Oliver did a nice bit about the issue of politicians appropriating songs in a segment for his show Last Week Tonight after the Republican National Convention in July. And although not all the artists whose music is heard at Trump rallies take issue with such use, the artists participating in the 30 Days, 30 Songs project assuredly do not support his campaign.
The 30 Days website proudly displays a quotation from The Washington Post: "A playlist of songs that Donald Trump will hate." So far that list includes songs composed specifically for this project: "Million Dollar Loan" by Death Cab for Cutie, "Can't You Tell?" by Aimee Mann, "With Love from Russia" by Bhi Bhiman, "Demagogue" by Franz Ferdinand, and "Before You Vote" by Thao Nguyen of The Get Down Stay Down. Each of these tracks—composed, recorded, and produced between mid-June (when Eggers initiated the project) and mid-October—directly addresses the Republican candidate. For example, in addition to referencing the money Trump borrowed from his father at the outset of his career, the accompanying music video for "Million Dollar Loan" plays with the candidate's platform position of building of a wall between the United States and Mexico. Brick by brick, a cinder block structure is erected on screen. First by Trump and then by others. In the end, however, the construction is not a wall but a solitary box with the candidate left standing alone inside. Franz Ferdinand's "Demagogue" contains the lyric "those pussy grabbing fingers won't let go of me now"—a not so subtle reference to the now infamous "hot mic" remarks made by Trump to Billy Bush during a 2005 Access Hollywood segment. That tape was released by the press on October 7 and Franz Ferdinand's song was published online exactly one week later. In this respect, the 30 Days endeavor takes advantage of our age of digital production and instant distribution in a way that protest music of previous generations could not.
Dave Eggers stated in a recent interview with Vogue that these songs "might even at first sound benign to Trump supporters, but if you listen closely, they'd all be puncturing that inflated horror of an ego he has." This is particularly true of tracks that do not reference Trump directly. Jim James of the band My Morning Jacket contributed "Same Old Lie"—a song slated as the opening track for his solo album Eternally Even to be released next month. The song speaks more broadly to the cyclical nature of political deception—one that could just as easily be applied to either of the major party candidates. But when placed alongside the anti-Trump laden rhetoric of the other songs, it squarely targets the Republican candidate. Similarly, Josh Ritter's "The Temptation of Adam" is a song first released almost a decade ago. Yet this mid-nuclear-apocalypse-love-song about a relationship blossoming in an isolated missile silo takes on new meaning when placed in the context of a future presumably overseen by President Trump.
As of this writing, the "Million Dollar Loan" music video has 370,000 views on YouTube and more than 1,400 comments. Reading through the wide range of responses posted alongside this video prompts several questions: Who are these songs for? Are they for the undecided voter? Are they for fans of the individual artists who may or may not change how they think because their favorite band has come out against Trump? Do they unintentionally become fodder for Trump supporters to spurn the anti-Trump crowd? Perhaps as the playlist continues to unfold, we'll get a clearer sense of the answers to some of these questions. And more likely than not, new questions will emerge as well.
Death Cab for Cutie has been the most prominent contributor to this point—but that might change in the coming days. A quick scan of participants from Eggers' 90 Days, 90 Reasons—a 2012 project dedicated to President Obama's reelection campaign—suggests we are in for some heavy hitters. Probably not by coincidence, Ben Gibbard, also provided the first entry for the 90 Days project. Two other contributors to that previous endeavor also provided songs in the first week: Jim James and Thao Nguyen. Dave Eggers has indicated that R.E.M. will contribute a previously unreleased live version of a song relevant to the cause. And R.E.M. frontman Michael Stipe formerly provided reason number twenty-three. It remains entirely possible that other 90 Days, 90 Reasons authors will reprise their electoral support through song, including prominent acts such as Paul Simon, Moby, Mike McCready (Pearl Jam), and Nate Mendel (Foo Fighters).
But one of the more important features of 30 Days, 30 Songs is that it casually mixes well-known acts with lesser known artists—it is a democratic playlist in this regard as well. Currently, alongside Death Cab for Cutie, Aimee Mann, and Franz Ferdinand are offerings by Bhi Bhian, Jim James, Josh Ritter, and Thao. And the 90 Days, 90 Reasons list features a set of lesser-known but wonderfully thoughtful and talented musicians: Reggie Watts, Win and Will Butler (Arcade Fire), Michael Franti (and Spearhead), Ben Jaffe, Dee-1, and Steve Aoki. We might also expect to see these artists participating in the project.
According to Eggers, the endeavor has more songs than days—twenty-five more songs, to be exact. I would imagine that in the days leading up to the election, more and more artists will give voice to this musical anti-Trump movement regardless of whether or not they are directly involved with the 30 Days, 30 Songs project. Just this past Friday, for example, will.i.am of Black Eyed Peas fame released "GRAB'm by the PU$$Y" via Funny Or Die—it already has over half-a-million views.
Stay tuned.
– Ryan Raul Bañagale